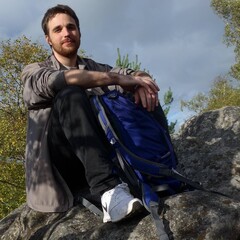 mathieu chaillous
Character Artist - Looking for job
Paris, France
Summary
Hi, I'm a character artist. I do sculpting, modeling and texturing for games and VR applications.
I have been working and developing characters and environment based on concept and images for different projects since 2014. I have good knowledge about human anatomy and 3D production for game engine.
Skills
Character Modeling
Prop Modeling
Texturing
Low-poly Modeling
Digital Sculpting
Software proficiency
Productions
Video Game

Event [0]

Year

2016

Role

3D artist

Company

Ocelot Society
Experience
3d artist at Backlight Studio

Paris, France

Environment, character san retake, shader, and vfx

3D artist at Ocelot Society

Paris, France

October 2015 - October 2016

Environment, animation, PBR textures, and VFX.

3D artist at Trickster face

bordeaux, France

Environment, animation, and a bit of special effect for the game long night.